Join us
Harvesters come each week to our farms to harvest fresh, organic seasonal produce. The farmers provide a list of what is ready to harvest, instructions for how to do so, and the amounts that each harvester is entitled to.
Depending on the season, the harvest will include salads, sprouts or microgreens from the greenhouse, edible wild plants from the surrounding area, veggies from the fields, herbs from our herb gardens, and both edible and decorative flowers. Harvesting at Pluk! is unlike shopping at the supermarket: you will notice that most vegetables can only be produced in a certain season, and not all year round. You will also notice that the harvest starts off slowly in May, and peaks in the summer and early fall. Our polytunnels allow us to grow a great variety of warm-weather crops such as tomatoes, aubergines, and cucumbers. We list all the crops we grow in the
Our crops section
of our website.
How it works
You can harvest every week from May - November (subject to weather conditions)
Every week we share with you what can be harvested from the fields. Each crop on our web page has video harvest instructions and tips.
Every week you come to the farm to pick your vegetables and herbs. Harvesting should take around 30-60 minutes depending on the season and location. Harvesting can take longer at the Fruittuin as the fields are spread out whereas the Boterbloem fields are in one place. Sometimes we will harvest items for you.
We offer a weekly single or double share.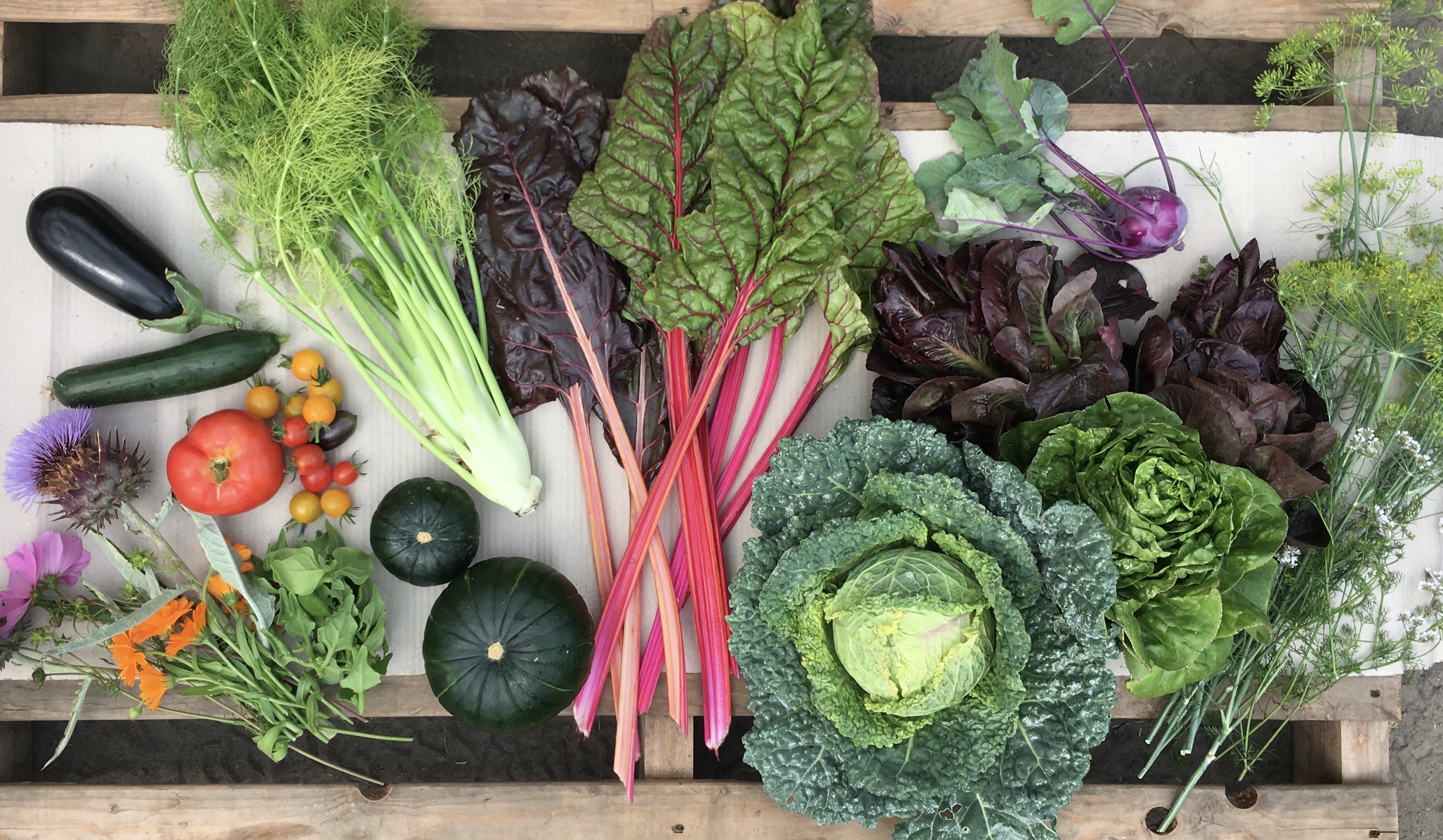 * An example of an abundant July harvest during 2022 - a year in which weather conditions have been favourable.
Share prices based on solidarity payment
Solidarity payment refers to a "social solidarity economy" model which advocates for a fair income for the workers at the same time as making the project more accessible to the consumers.
A fixed price usually does not consider everyone's economic situation whereas a solidarity payment scheme means consumers can choose the amount they want to reflect their own economic status. This means those with higher incomes help those with lower incomes to have access to the project whilst ensuring the farmers receive a fair income.
The income based pricing system asks you to consider your own economic situation and the wage you earn yourself per hour when choosing a share price. We have provided an indication in the table below of how the total price of a share affects our salary payments.
We expect the majority of harvesters to choose a share price of at least 16€/hr (680€) – and ideally above –
as this is the minimum amount needed for the farmers to receive a minimum wage. At the same time, we want our harvest to be accessible to all. If you cannot afford the minimum share price we ask you to let us know what you can afford and we will do our best to accommodate you.
Please also take into consideration that the hourly rate we are showing in the table below is a BRUTO amount , from which we have to pay our pensions, social security, holidays, insurances and taxes. In future years we hope to earn more so we can build up pensions and cover our insurance and other costs.
Share prices based on hourly wage
Total hrs worked by farmers 7132 divided by 225 shares = 31,70 hrs/share
Fixed costs of 38 880 divided by 225 shares = 172,80 eu/share
Example of calculation at a 20eu/hr rate:
20 x 31,70 = 634,00 + 172,80 (fixed cost/share) = €807
Share price table (minimum share price of 680 highlighted in orange)
Interested in signing up?
We have spaces available for this 2023 season!
View and fill the sign-up contract in English
View and fill the sign-up contract in Dutch
or
︎Contact us if you have any questions